The professionals at Gartman Mechanical are available for any of your process requirements, new construction, or service needs to existing equipment. GMS does offer design build services, sheet metal services, hot water, steam, and chilled water piping and much more. Our engineers aptly handle the challenges of energy efficiency, building occupancy, heating and cooling load calculation, equipment selection, and budget considerations. GMS, Inc.'s HVAC capabilities include:
Systems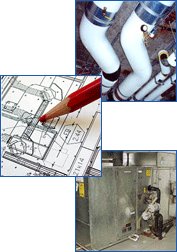 Variable Air Volume (VAV)
Unitary Heat Pump
Single/Multi Zone Rooftop
Dual Duct
Fan Coil
Induction
Chilled and Hot Water
Direct Expansion Cooling
Energy Recovery
Steam Piping
Ducted Supply, Return and Exhaust
Boiler Feedwater Systems
Equipment
Boilers
Heat Exchangers
Chillers
Cooling Towers
Evaporative Coolers
Pumps
Air Handling Units
Roof Top Units
Condensing Units
Humidifiers
Electrostatic Filters
Heat Exchangers
Door Heaters
Stack Economizers
IncineratorsAir Separators
Gartman Mechanical specializes in offering quality fast and dependable refrigeration services for many commercial customers ranging from food distributors to restaurants. From initial concept, through site supervision, to project commissioning, GMS, Inc. engineers are available to ensure the success of your project.
GMS, Inc. can provide the following services:
Cascade Systems
PSM Cad Drawing Services
Design/Build Turnkey Projects
Service and Maintenance
Refrigeration Control Systems
Refrigeration Parts and Service
We also specialize in the installation of all types of refrigeration equipment such as:
Walk-in Coolers
Walk-in Freezers
Ice Merchandisers
Ice Cream Freezer
Open Air Cases
Reaching Feezer and Coolers
Evaporative Condenser
Self-Contained Package Unit
Our qualified technicians have over 50 years of service and will install and maintain your system to operate at optimum performance and efficiency and are fully trained and capable of repairing any make or model.
24-hour emergency services at 920-231-5530.
To schedule a repair or to request a free estimate please call 920-231-5530 or email This email address is being protected from spambots. You need JavaScript enabled to view it.